rules:andhrapradesh:assembly
Table of Contents
Andhra Pradesh Legislative Assembly Rules
These Rules may be called the Andhra Pradesh Legislative Assembly Secretariat Right to Information (Regulation of Fee and cost) Rules, 2006.

Application Fees
Application fees for providing information
Application fee of rupees ten by way of cash against proper receipt or by Demand Draft or Banker's Cheque payable to the Drawing and Disbursing Officer, Andhra Pradesh Legislative Assembly Secretariat.
For providing information, fee shall be charged at the following rates
(a) rupees two for each page (in A-4 or A-3 size paper) created or copied,
(b) actual charge or cost price of a copy in larger size paper,
(c ) actual cost or price for samples or models, and
(d) for inspection of records, no fee for the first hour, and a fee of rupees five for each subsequent hour (or fraction thereof).
Where access to information is to be provided in printed or electronic format, the fee shall be charged at the following rates:-
(a) for information provided in diskette or floppy, rupees fifty per diskette or floppy, and
(b) for information provided in printed form at the price fixed for such publication or rupees two per page of photocopy for extracts from the publication. <html> <script async src="pagead2.googlesyndication.com/pagead/js/adsbygoogle.js"></script> <ins class="adsbygoogle" style="display:block; text-align:center;" data-ad-layout="in-article" data-ad-format="fluid" data-ad-client="ca-pub-3082882621726443" data-ad-slot="9529004960"></ins> <script> (adsbygoogle = window.adsbygoogle || []).push({}); </script> </html> ==== Sample RTI Application ====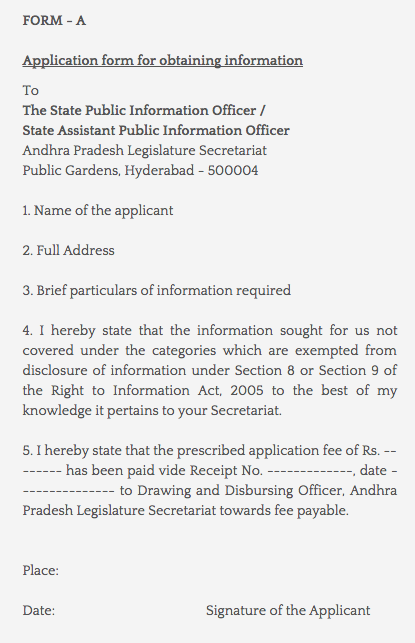 ===== Fee to be charged for providing Information ===== For providing information under Sub-Section (1) of Section 7, the fee shall be charged by way of cash against proper receipt or by Demand or Banker's Cheque payable to he Drawing and Disbursing Officer, Andhra Pradesh Legislative Assembly Secretariat, at the following rates :- === A) Priced Material: === Publications, printed matter, text, maps, plans, floppies, CDs samples, models or material in any other form, which are priced, the sale price thereof. === B) Other than priced material: === - Material in printed or text form (in A4 or A3 size paper) rupees two per each page per copy; - Material in printed or text form in larger than A4 or A3 size, cost of the paper thereof; - Maps and Plans - actual cost thereof; - Information in Electronic format viz., Floppy, CD, or DVD: - rupees fifty for Floppy of 1.44 MB; - rupees one Hundred for CD of 700 MB; and - rupees Two Hundred for CD (DVD). - Samples and models- actual cost thereof; - Material to be sent by post - the actual postal charges in addition to the charge payable as per these rules. ===== Appeal Procedure ===== Any person who, does not receive a decision within the- time specified in sub-section (1) or clause (a) of sub-section (3) or Section 7 or is aggrieved by an order of the Public Information Officer may, within thirty days from the date of receipt of the order of the Public Information Officer, prefer an appeal to the appellate authority (Secretary to State Legislature) on plain paper in the format specified in Form-B which shall be accompanied by an appeal fee of rupees twenty by way of cash or by demand draft or banker's cheque payable to the Drawing and Disburisng Officer, Andhra Pradesh Legislature Secretariat against proper receipt. === Content of Appeal === Appeal under section 19(1) of the Right to Information Act, 20051) - Full Name of the applicant - Full Address - Particulars of the Public Information Officer - Date of receipt of the order appealed against (if order passed) - Last date for filing the appeal. - The grounds for appeal. - Particulars of Information - Nature and subject matter of the information required. - Name of the Office to which the information relates. ==== Sample RTI Appeal ====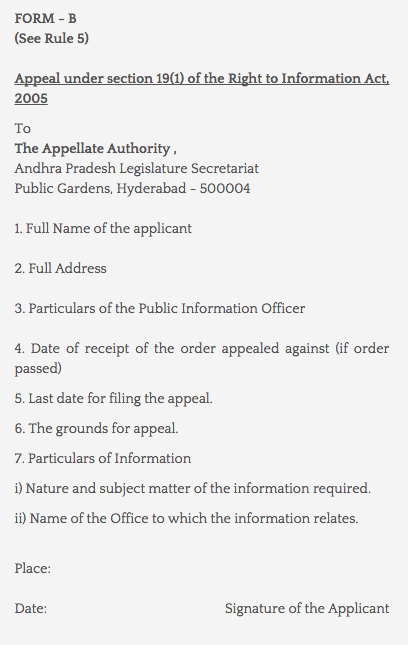 ===== Important Downloads ===== - RTI Act in Telgu - RTI Act in Urdu - RTI Act in Hindi - Andhra Pradesh Legislative Assembly RTI Rules ===== Address ===== ==== Public Information Officer ====
- Mr. P.V. Subba Reddy
Assistant Secretary
Assistant Public Information Officer
Cell: 9989056079 - Mr. M. Vijay Raju
Deputy Secretary
State Public Information Officer
Cell:8978500668 - Mr. K. Satyanarayana Rao
Secretary (I/C)
Appellate Authority
Ph:+91-40-23233610/ 66362479 ===== External Links ===== - Andhra Pradesh Legislative Assembly Website - About AP Legislative Assembly
rules/andhrapradesh/assembly.txt · Last modified: 2017/11/26 15:04 by Shrawan
---